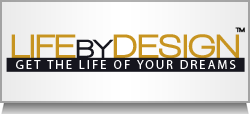 GOAL SETTING
Goal Setting is probably one of the most powerful tools you will ever use in your life. Why? Because this is what helps you plan your life, your dreams and your future. Having your goals planned out, written down and accessible at all times is critical; it can make the difference between failure and success.
CREATE YOUR ROAD MAP
Have you ever tried to travel to a new place without any directions or a map to follow? Probably not. You would want to plan your route and make sure you get there quickly without getting lost. Life is should be the same way.
At Life By Design, you create your list of Personal, Professional, and Life Goals and then you develop YOUR detailed plan to achieve them. Once you have your map, you are never lost. That is what our Goal Setting Session is all about, getting your life on the map.
WHO SHOULD ATTEND?
Attendees should include sales, sales management and sales support personnel that work to convert prospects to clients; marketing personnel responsible for developing sales support materials; and product development personnel responsible for producing products and services that provide identifiable value to clients.
Bert has made a difference in my life…he is amazing! I have become much more balanced and less anxious, and I now truly live with passion. Bert helped me keen in on my delegation skills, which is terrific for someone who had major problems 'letting go.' My management skills have greatly improved and I am able to lead my team more efficiently.–-Jensen Sostre
, Royal Carribean Cruise Lines
 - Miami, FL
There is a mountain of wisdom in Bert's words. By following his simple suggestions I am sure I can improve my life. The improvement will be more JOY and more PRODUCTIVITY towards attaining my goals. Thank you so much.–-John Buzenberg, Beverly-Hanks - Weaverville N.C.
Bert you are the man. Your energy and passion are contagious. Your messages are powerful and very true and I know they can help many people like they have helped me. You really exemplify the meaning of SUCCESS!–-Capt. Matthew R. Berg, USAF Assistant Professor of Aerospace Studies
WHAT YOU WILL LEARN:
DEFINED PURPOSE: Set ambitions for every aspect of your life.
CONCRETE PLAN: Get specific with your goals and how you will achieve them.
DETAILED PRIORITIES: Decide what is most important to you.
WORK/LIFE BALANCE: Find equilibrium with your life goals.
PERSONAL ACCOUNTABILITY: Hold yourself to a higher standard.