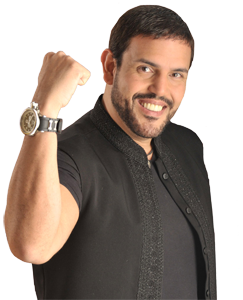 BERT OLIVA IS A LEADERSHIP EXPERT.
A renowned public speaker, author and corporate trainer, Bert has received national recognition for delivering "how to" techniques with a high-energy message; showing people how to communicate more positively and powerfully. His unique gift is to speak to an audience and communicate to the heart of each person as if they were alone together. Bert speaks regularly and conducts team-building and management communication seminars for companies and organizations interested in better employee relations, sales, morale, and productivity.
For more than 24 years, Bert Oliva has been helping thousands of people transform self-limiting beliefs into self-fulfilling breakthroughs to achieve their dreams. No one can captivate audiences like Bert with his compelling stories and experiences. This is a man who can motivate anyone to triumph over fear, self-doubt or phobias and touch their hearts at the same time.
Bert specializes in bringing real solutions to the communication challenges that cost businesses and employee's time and money every day. His exceptional gifts as a strategist allow him to connect life lessons to business insights in presentations that are unforgettable and delightful. He entices audiences to open their minds and grasp practical techniques they can use immediately through entertaining examples and hands on exercises.
He has an exceptional support staff, some of which have been working with him for over two decades. His team understands his methods for teaching and focuses on support for all participants in his events.
The BOWA Team is always ready to assist in any event or training. Bert has a team that consists of additional trainers, speakers and project coordinators.
Bert has a knack for making the seemingly complex easy to understand. His programs are dynamic and compelling to help both motivate and produce more in people's lives.
"Live Life, Don't Let Life Live You." –Bert Oliva
Bert Oliva primarily speaks 

in one of three ways:
1) KEYNOTES

His programs vary based on what the clients wish to accomplish. When hired to speak, he primarily delivers a keynote or one of his signature programs:

Body Language
Social Selling
Digital Tools For Mobile Marketing
Sales Force (sales techniques)
Empowering Networking Techniques
Leadership

2) LIVE EVENTS

When the event is one that Bert Oliva himself is coordinating they will be one of the following:

Power Drive Expo
Become Fearless (find the speaker within)
Empowering Millionaires
Life by Design (goal setting)

3) COACHING

A Physical Trainer who can look at your body and know how many reps they need to get your body in shape, a Professional/Business Coach needs to evaluate your mind. That is why Bert has designed this powerful program to find out what drives you, how far and how hard we can push you without offending you or pushing you to your breaking point. But at the same time encouraging you to strive towards your goals and improving your overall potential. At the same time you can discover a lot about yourself.

At BOWA our programs are ongoing partnerships which help students produce fulfilling results in their personal and professional lives. Through the process of coaching/mentorship, students deepen their learning, improve their performance, and enhance their quality of life. Learn how to perform at your peak level! People hire a coach or mentor when they are starting a new business, making a career transition, reevaluating their life choices, or simply feeling ready for a personal or professional breakthrough.

Coaching is needed today more than ever as a critical tool for organizational change. Change is essential for an organization to grow and adapt to today's rapidly shifting marketplace. Coaching can facilitate productive change in persons, teams, and systems by enabling leaders, managers, and employees to uncover potential that might otherwise go untapped.

Through coaching, leaders learn how to optimize the value of human capital. Coaching helps them clarify their visions, beliefs, and values, and stretches their capacity to lead and influence. Coaching has emerged as the best way to help individuals learn to think and work together more effectively.
With Bert I have learned that being happy in life is a conscious choice, we don't get to pick the weather, but we do get to pick what attitude we have about the weather. Bert is full of charisma and passion which comes through crystal clear in all his work. These two qualities make him a natural leader and motivator, but what makes him unique is his authenticity and Integrity. Another lesson I have learned with his help is that there are no such things in life as coincidences. If you listen to Bert you are sure to here about SYNCHRODESTINY, my suggestion to you--pay attention, I've lived it and I am living it now.–Maria Viera
 - Service Delivery Analyst
,
Burger King Corp.
BOWAworld is a performance improvement partner. We facilitate training, seminars and workshops that are designed to engage, entertain, and bring out the best of each company, team, and individual. Every program is fully customized to our clients' objectives, delivering skills that are transformative and sustainable. Elements of corporate training and team building are often blended together, combining in programs that are both unique and uncommonly powerful. Learn More →
BOWA Studios is a division of BOWAworld that provides video production services and video training services to our clients around the world. BOWA Studios is a full-service multimedia production company. We take your project from concept to distribution. We do it all: hi-def (high definition) video production, standard definition video production, video editing and compression for the web. Our services include Highly Interactive Presentations, Up-To-Date Training Courses, Social Media Video Integration, and Much More →
Motivational Missionaries Tour (MMT) is a 501 (C) 3 nonprofit organization designed to help children around the world through educational seminars and awareness campaigns. MMT's goal is to help educate, empower, and motivate the young adults of the world to positively change our future. MMT's team of professional speakers travels on tour for various causes and topics, especially topics affecting the youth in our communities. Currently, MMT is working on the YPR Tour (Young People's Revolution), which focuses on making young adults aware of Human Trafficking risk factors. Learn More →