PUSH PAST YOUR DOUBTS AND MOVE INTO ACTION
In this presentation you will find that Bert will teach the principles of understanding change and inspire internal changes within each individual. Teaching them how to triumph over the deflating effects of setbacks and self-doubt, how to break free from whatever is keeping them "small," and become empowered by their challenges, rather than victimized.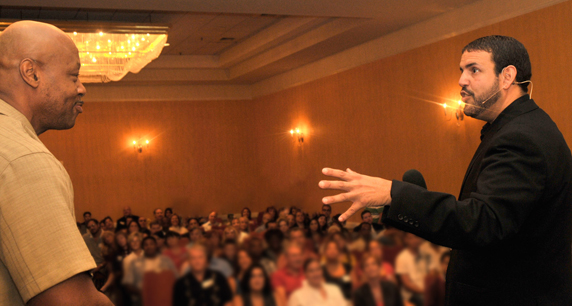 STRATEGIES WITH TRANSFORMATIONAL RESULTS
Bert has an ability to combine real-life experiences with outstanding storytelling skills. His techniques empower people to adopt winning strategies and powerful behavior patterns that have transformational results, allowing individuals to reach their true potential.
MINDSET SHIFTING
People need to understand the basics of communicating within their environments and how it affects the morale of their surroundings. This is a fast-paced, action-oriented, mindset-shifting program that invites individuals and leaders alike to show up with their "A-game," ready to make a significant contribution anywhere they are in life.
I would like to thank Bert for inspiring me and giving me motivating and clarity to achieve my dreams and create realities.–Michel Taylor, Samsung Latin America
The most important thing to improve yourself in not only the belief in the power of forward motion, but the 'attitude.' And Bert has that and teaches that.–Carlos Materano, Hollywood, FL
People have lost hope. We all need to simulate positive energy and believe in our possibilities. I agree with your concepts.–Maria Grases, Universidad Metroplitana, Caracas, Venezuela
LEARNER OUTCOMES:
RECOGNIZE CONDITIONING: Discover how to understand where some of your conditioning came from and how to recognize it.
TAKE ACTION: Learn to push past your doubts and move into action to make things happen in your life.
EMPOWERMENT: Realize that you have more power than you realize within yourself and allow your self worth to grow.
For more information please call (888) 711-2044